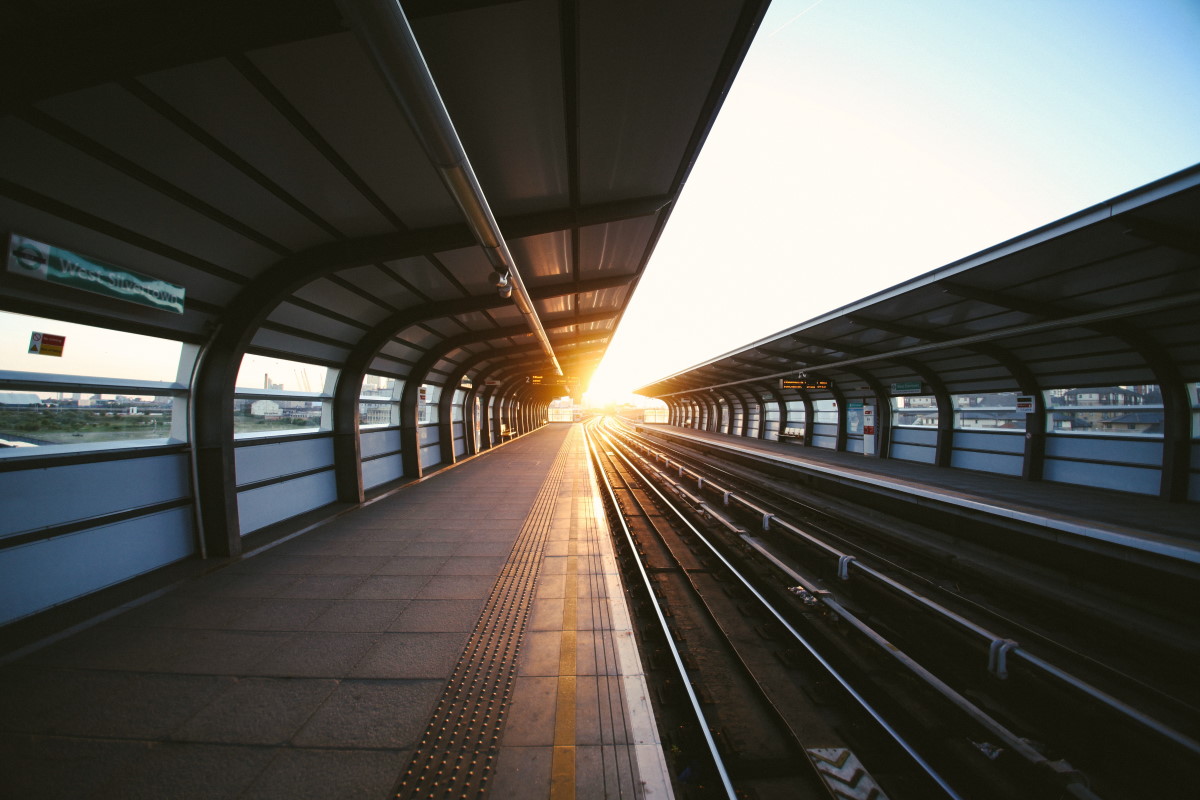 i-Coach
Imparta's learning experience and enablement platform
Digital learning at home and on the GO.
Imparta has always strived to stay ahead of the curve as it integrates the use of technology to augment sales learning. Over time we have continued to build and refine our award winning sales learning experience and enablement platform, i-Coach.
I-Coach is brought to sales professionals everywhere by way of our mobile counterpart, i-Coach GO. This mobile application allows sellers to dip in and out of our full curriculum as well as engage with interactive content and resources on the go.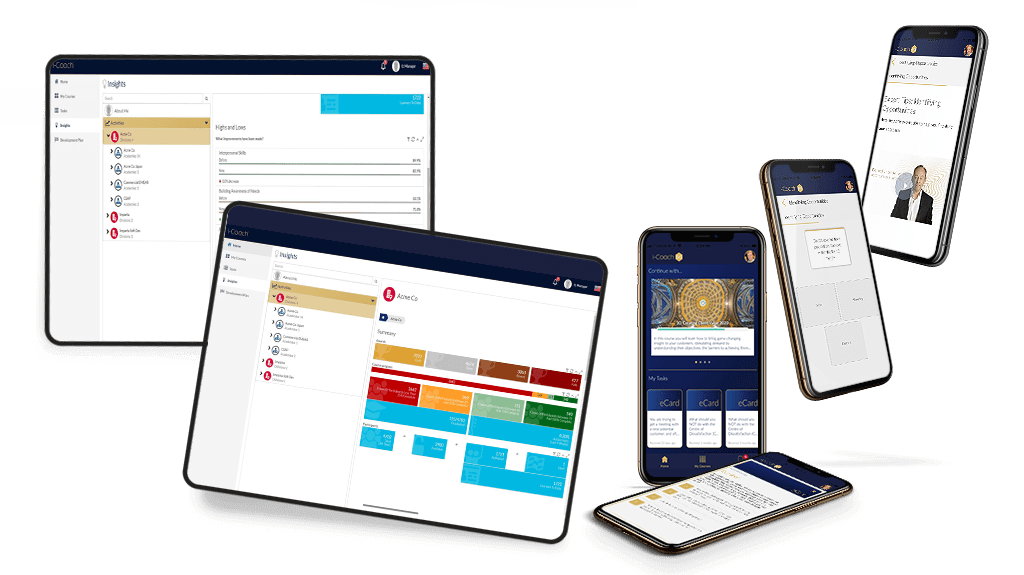 Content
Content is key when it comes to learning. At Imparta we continuously update and enhance both our classroom and digital content. We use the latest authoring software to provide learners with rich, modern and fun content. We use a blend of mediums to deliver an effective Kolb-based learning experience including:
Engaging videos and animations
Interactive games and mini-simulations
Challenging quizzes and other knowledge checks
e-Cards
e-Cards are a microlearning function within i-Coach. After a physical or virtual workshop, the learner is sent a series of quiz questions based on the content. The topics and frequency of the questions dynamically adapt based on the user's responses. The use of e-Cards leads to:
Higher adoption and reinforcement of methodology
Greater retention of practical concepts
Improved sales performance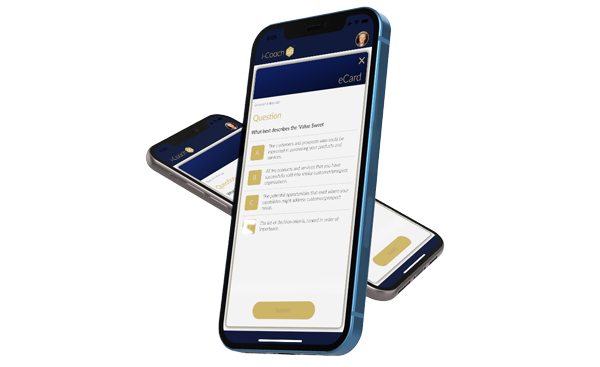 Insights
Insights is the latest generation of reporting and analytics within the i-Coach platform. Insights is the visualisation functionality that brings rich learning data to life. Insights is designed to bring the following benefits:
An efficient method to identify and visualise skill gaps
A quicker and easier view into individual and team performance metrics
The ability to draw correlations between learning assets and sales performance
Explore
Explore is a place for ad hoc access to content and resources. Resources can consist of multiple assets from a variety of formats. Designed for the curious seller Explore embraces the move towards working within the flow of work. Functionality allows for:
Random access to bize-sized chunks of learning content to curate into playlists
Easy access to an organisation's latest sales resources such as case studies, product info and legal documents
The ability for individuals to contribute content and tips for the benefit of their wider team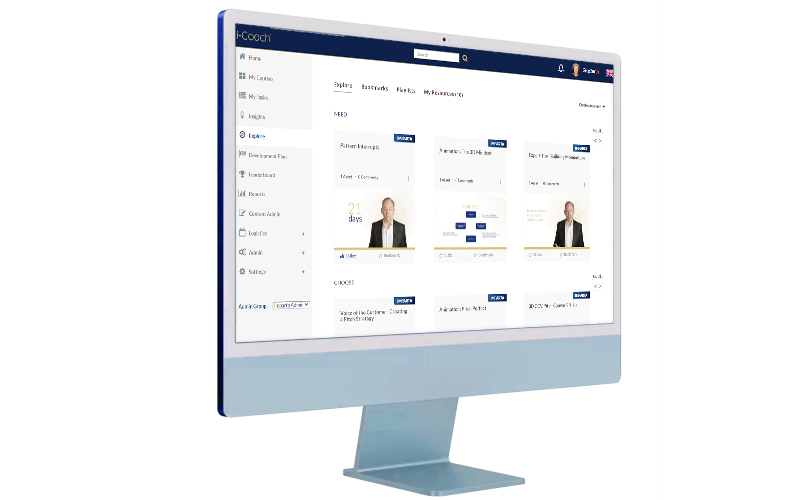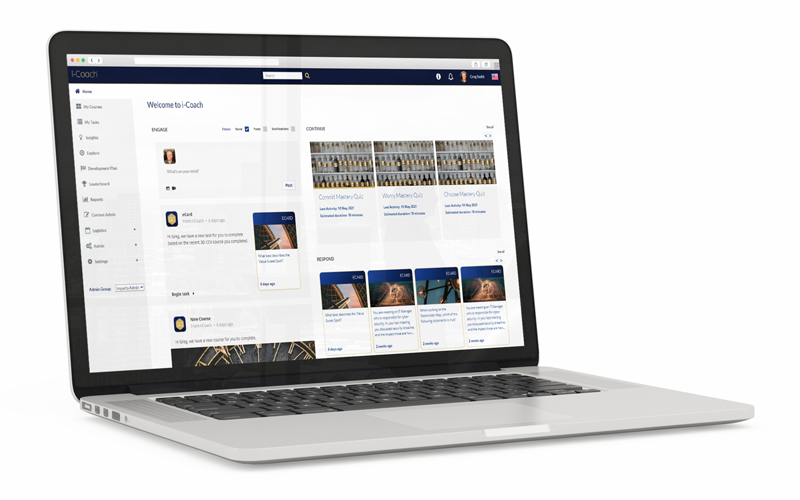 Engage
Engage is a home page feature serving as a news feed, collaboration hub and notification centre for i-Coach users. Peer-to-peer sharing of content is key to performance improvement and this is what Engage is designed to achieve:
A place to share tips and best practices with their peers
A place to elicit help and advice from their colleagues in order to help get over sales process blockers
A place to view all outstanding courses, tasks and events as well as notifications and reminders